Max Explores Chicago
Laberje, R.
I just read this cute book to all my K-1-2 students to get
FIRED UP
for Reji's visit, who is the author of this book. The whole series of books is really neat if you have been these places. Chicago's book talks about Navy Pier, the Willis Tower, Chicago style pizza, and much more. I bought the New York version for my kids and had it signed by Reji. Image from bn.com
Doll Bones
Black, H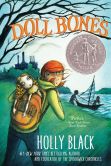 This book isn't "new" but I just had to say how much I love it! I read this book because it came to my library with a creepy doll on the cover (unlike this new design) and then I found this awesome QR code activity about it, so I had to preview it before sending it out to the students. I really loved the mix of creepy and adventure as these kids go on a quest to put a ghost at rest. This book is always checked out of the library because it is unlike anything I have read before. I have read it twice! Image from bn.com but my cover is more like Scholastic's!
Anyone else REALLY excited about Monday's book award winners?!
I always try to predict and hope that I bought and read the books that win...